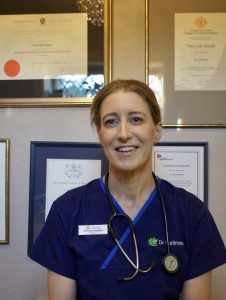 BSc(HONS); MBChB; FRNZCGP; FNZSCM, PGDipSEM, Cert Dermoscopy, Cert Homeopathy, MACNEM Member
At the heart of Dr Tracy Chandler's Wellness practice is the belief that our body has powerful innate healing abilities and that given appropriate advice and techniques you can achieve optimal health and wellness.  The team at the Dr Wellness Clinic guide you along your Wellness Journey™ by utilising the key aspects of Integrative (Wellness) Medicine (Integrative Medicine) of which nutrition and environment are most important.  Optimal wellness has a positive impact on all areas of our life, strengthening our self-assurance and enhancing our relationships with the world and other people.
Medical Director and owner of The Chandler Clinic in Timaru, Dr Chandler is working at the forefront of her field, employing state-of-the-art Integrative (Wellness) Medicine tools and techniques along with the best of conventional medicine. Tracy's own Wellness Journey™ has made her particularly passionate about the incredible benefits of Integrative (Wellness) Medicine. It is hard to imagine a higher standard of approval!
The greatest reward that comes from her work is the benefit that her clients. "We are proud of the many testimonials we receive".
Tracy was born in Canada and grew up in England.  After a working stopover in New Zealand she was convinced that this was the country was where she would like to settle. She is married to her soulmate Grant Andrew and they have seven children:  Melissa, Tom, Helen, Callum, Emily, Rebecca and Charlotte. "Timaru is a wonderful place to raise children," says Tracy.
Dr Tracy Chandler completed a Biochemistry degree and then her primary medical training in England. This gave her a more in-depth knowledge of the human body than most Doctors are required to know.  She then worked as a General Practitioner in Timaru before doing further post-graduate training in Sports and Integrative (Wellness) Medicine and Nutrition. Her decision to specialise in Integrative (Wellness) Medicine evolved through her experience as a GP and her increasing awareness of the impact of nutrition and environment on an individual's health and well-being. In addition she firmly believes in the power of the Mind-Body link and our ability to heal ourselves.
At the Dr Wellness Clinic treatment is not simply a clinical act but is a process that incorporates a deep respect for the individuality of clients. Clients are in control of their Wellness Journey™ at all stages, from the initial consultation until they reach a stage of confidence in their wellness.
The theme underlying the clinic is one of peace and respect for the individuality of her patients'. The ambience of the rooms is both calm and inspired. Clients are assured of complete confidentiality and the discrete surroundings reiterate this ethos.  The huge growth of Integrative (Wellness) Medicine has meant that the clinic needs to expand and plans are underway for a new purpose built clinic.
Dr Tracy Chandler's natural warmth and the integrity of her treatment practice and business philosophy makes the Timaru-based Dr Wellness Clinic one of a kind.  "We can help you get back control of your wellness by guiding you through your Wellness Journey™". In the words of the proverb: "He who has health has hope; and he who has hope has everything.
My qualifications:
BSc (HONS) Biochemistry Degree, (4 year) University of Kent, UK
MB ChB Medical Degree, (5 years) University of Leicester, UK
FRNZCGPFellowship of the Royal NZ College of General Practitioners (minimum 3 years further training but I have 16 years' experience as a GP)
FNZSCM Fellowship of the NZ Society of Cosmetic Medicine (minimum 1 years further training).
PGDipSEM Post-Graduate Diploma in Sports and Exercise Medicine (3 years) Otago University, NZ
CertDermoscopy (Skin cancer detection), University of Wales, UK
Homeopathy Certificate
MACNEM Member of the Australasian College of Nutritional and Environmental Medicine
Member of Australian Integrative Medicine Association